Product Key Explorer has a user friendly interface and you should just press "Find Keys" button to retrieve license keys from your local machine. It's fastest way if you do not know how to find product key you lost. If you want to recover license keys from remote computers, choose appropriate "Authorization Mode" and enter your Admin user name and password, then press "Select Computer" button and in "Host Range Selection Dialog" select appropriate mode:
1. "Local Computer" mode for recovering product keys from your local machine
2. "IP Range" mode for retrieving serial numbers from network computers (enter start/end IP Addresses)
3. "IP Address List" mode for retrieving license keys from appropriate network computers ( provide path to .txt file that contains IP Address or Computer Name in every line).
After press "Ok" button to close "Host Range Selection Dialog" and press "Find Keys" button to start product key scan and recovery process.
Requirements for "Product Key Explorer" remote audit:
1. "Client for Microsoft Networks" should be enabled on your and on remote computer
2. "Remote Registry" service should be enabled on remote computer
3. You should have remote computer registry access rights
4. You should have administrative privileges on the remote computer and C$ administrative share should be enabled for retrieving some products Registration Information (Adobe CS3 & CS4, CS5, QuickBooks and more).
5. Firewall on remote computer should be turned off or configured appropriately to allow your access. If you have firewall program running on remote computer, turn off it or use firewall program manuals to configure it appropriately to get remote access from your computer.

If you use the Windows firewall,you should go to 'Allow Programs'/Exceptions section and verify that the 'File And Printer Sharing' option is checked.'
You should configure firewall to accept incoming TCP/UDP packets with ports 135-139
6. On Windows XP Network security and sharing should mode be changed to classic mode ( Control Panel -> Administrative Tools -> 'Local Security Settings', and under Local Policies->Security Options, find the option of 'Network and security model for local accounts' and change it to classic mode ). You can change the following Registry value to get the same effect:

[HKEY_LOCAL_MACHINE\SYSTEM\CurrentControlSet\Control\Lsa]
"forceguest"=dword:00000000

7. Turn off the Remote User Account Control in Windows Vista and Windows 7. UAC ( User Account Control ) component of Windows 7/Vista doesn't allow to get administrator access on a remote machine. In order to turn off this restriction, you should set the following Registry value:

[HKEY_LOCAL_MACHINE\SOFTWARE\Microsoft\Windows\CurrentVersion\Policies\System]
"LocalAccountTokenFilterPolicy"=dword:00000001

More information about User Account Control and remote restrictions available >> Here
How To Run Product Key Explorer From Command Line?
/remote [Computer IP]
Retrieve product keys from the specified computer
/remote [From IP]-[To IP]
Retrieve product keys from computers in the specified IP addresses range
/iplist [Computer IP or Names File Path]
Retrieve product keys from all IP addresses specified in the file
/u [Admin User Name]
Administrator User Name
/p [Admin Password]
Administrator Password
/r
Covert IP addresses to Computer Names
/f [File Name To Save]
Save retrieved product keys to file .txt, .csv, .xls, .mdb, .html, .xml
/exit
Exit "Product Key Explorer" after retrieving product keys
Examples:

/remote 127.0.0.1 /f backup.xls /exit
/remote 192.168.0.1-192.168.0.255 /u admin /p pwd /r /f out.html /exit
/remote 192.168.0.24-192.168.0.26 /f "C:\Backup\backup.html" /exit
/remote 192.168.0.26 /u admin /p pwd /f out.xml /exit
/iplist "C:\Backup\iplist.txt" /r /f "C:\Backup\backup.mdb" /exit
How To Save and Backup Retrieved Product Keys?
You can backup software products registration keys to Registry File (.reg), save as Tab Delimited Txt File (.txt), CSV Comma Delimited (.csv), Excel Workbook (.xls), Access Database (.mdb), SQLLite3 Database, Web Page (.html) or XML Data (.xml) file, print key list or copy all to clipboard. Just right click to key list and choose appropriate option. Please note: the trial version doesn't allow backup or print product key list.
After selecting "Save To File" menu item you can choose different formats to save your data,
this option available only in registered versions.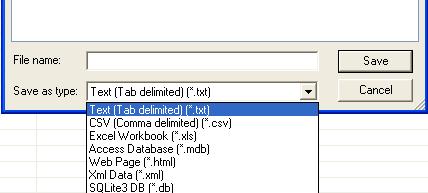 How To Find my game product key?
You can retrieve your game serial key with Product Key Explorer, the program can help you to find product keys for: Dungeon Siege 2, Age of Empires 3, Halo ( Halo 2), Flight Simulator, Rise Of Nations, Age of Mythology, MechWarrior Mercenaries, Sims 2, Battlefield, FIFA, NHL, Black and White, Battlefield Vietnam, Shogun Total War – Warlord Edition, Medal of Honor, Nascar Racing, Global Operations, Freedom Force, SimCity 4 Deluxe, James Bond 007 Nightfire, Dangerous, Dawn of War – Dark Crusade, Medieval II Total War, Call of Duty 2, Company of Heroes, Splinter Cell – Chaos Theory, Eugen Systems The Gladiators, Tiberian, Red Alert, Counter-Strike, Gunman Chronicles, Half-Life, Hidden & Dangerous 2, Industry Giant 2, Legends of Might and Magic, Soldiers Of Anarchy, Covert Strike, Rainbow Six III RavenShield, Pro Evolution Soccer 6, Stalker, Stardock Galactic Civilizations II,Ubisoft Prince of Persia, Silent Hunter II, Splinter Cell Pandora Tomorrow,Splinter Cell Chaos Theory, Empire Earth II, TimeShift, Sid Meier's Pirates, Star Wars Battlefront, Star Wars Empire, Star Wars Republic Commando, White Elephant RIP3 The Last Hero and more…